Posted by: Zar-Unity
« on: October 19, 2012, 02:36:13 am »
Introduction to Black box recorder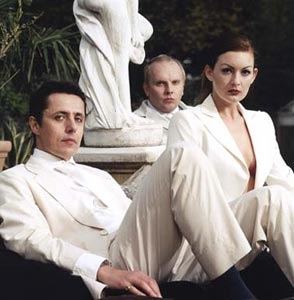 Black box recorder are a British band consisting of Sarah Nixey (the vocalist), Luke Haines (of The Auteurs), and John Moore.
With Sarah Nixey's breathy, ice cold vocals and Luke Haines intriguing story telling style in the lyrics; the sound of Black box recorder is certainly haunting, engaging and pulls the listener into a fantastic dark world that will entertain and move you like no other band you've ever heard.
England made me 1998
was their first album and it's got a more raw sound to it than their later, more dancer tunes. It's a haunting, cold and adventurous set of great songs that shows mush potential of what's to come next for the band. It sounds more minimal in production than their later two albums, which incorporate more electronic elements into the music.
I love
Facts of life 2000
&
England made me 1998
but I think that
Passionoia 2003
was their strongest album, which had the most enjoyable consistent flow of good songs. Mostly all dance pop tunes.
This band is very dark but also somehow always sounds uplifting to me. The production is excellent and the singer (although a little weak) is the perfect character to lead Luke Haines masterful job at telling stories. I love their dark, hypnotic sound and rich layers of melodies and creative production. This is a band that you won't get tired of listening to because they have put so much into the making of their songs.
Sarah Nixey
has also had a solo career and has released two albums so far as of October 2012. Her second album,
Brave tin soldiers 2011
sounds a lot like Black box recorders first album
England made me
, but with the absence of Luke Haines genius lyrical input.
Here are a few great songs by Black box recorder..
The facts of life
from
The top of the pops
..
http://www.youtube.com/watch?v=1loWFuZveyQ
Here's a great hypnotic tune with a cool video concept from
The facts of life 2000
called
The art of driving
..
http://www.youtube.com/watch?v=Mm_W4r0Fw5g
Another dreamy song from
The facts of life 2000
called
The English Motorway
..
http://www.youtube.com/watch?v=qC_6ia1NJkg
In closing, here is a great song from
England made me 1998
..
http://www.youtube.com/watch?v=roG7SfjuAXQ